Kylian Mbappé
'Mbappe is our Zidane' – Dugarry on why PSG star must play centre forward for France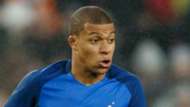 Kylian Mbappe is the Zinedine Zidane of the current generation of French footballers, World Cup winner Christophe Dugarry has argued.
Dugarry was in the squad that Zidane led to glory in 1998 by heading a double in a 3-0 win over Brazil in Paris and sees the young Paris Saint-Germain star as having the same talismanic effect as the current Real Madrid boss.
For that reason, he believes that the 19-year-old Mbappe should be used in his strongest position by Didier Deschamps: as a centre forward.
"For a long time, I've thought that Mbappe must be the forward for France," he told RMC. "It's sure because it's his best position. He can play well on te right or the left, but the boy is a centre forward and must be France's spearhead for the next 10 or 15 years. He's a No.9.
"He's our Michel Platini, our Zinedine Zidane. He's the player for our future. So he must be allowed to learn and mature in this position."
Dugarry has advocated a strike partnership with Atletico Madrid forward Antoine Griezmann, comparing the two to one of the great Brazilian pairings of the 1990s.
"A duet with Griezmann would be wonderful," he continued. "It's the essence of football. They could go in behind, play off each other, they could play in small spaces. It would be like Romario and Bebeto and I think that would be perfect."
Mbappe has only one goal in 10 appearances for the national side, netting the fourth in a 4-0 win over Netherlands last August but is expected to play a key role for France at World Cup 2018.