UEFA Champions League
Mbappe admits PSG have struggled in Champions League but aren't far off from 'clicking'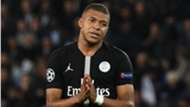 Kylian Mbappe admits Paris Saint-Germain have struggled in the Champions League but does not believe they are far off from having "things click into place."
PSG currently sit third in Champions League Group C, a point off Napoli and Liverpool.
The Parisians have only managed a victory against Red Star in the group, drawing Napoli twice and losing away to Liverpool.
However, PSG still have control of their fate, with wins over Liverpool and Red Star all that is needed to ensure advancement to the knockout stage.
Mbappe, who is a fitness question for the Liverpool match after getting hurt while on international duty with France, doesn't believe he and his team-mates are far off everything falling into place.
But the star man concedes that little bit makes all the difference in a top-level competition.
"We have struggled a bit so far, but we are still in the running and we have our fate in our own hands," Mbappe told Agence France Presse.
"I think that in order to win a competition you need things to click into place.
"We are not missing much. It is not much but at the same time it is a lot, because in top-level football it is the little details that are the most important."
Mbappe thinks that moment when things do click could happen at any point – perhaps even out of the blue.
"There are games in which you think, at first sight, that nothing unusual is going to happen," he said. "And then there is maybe a little moment in the game – it can be a half, or a spell in which you are on top – and your team grows in confidence and things go in your favour, to take you far in a competition like this."
PSG were handed a difficult group when placed in with Napoli and Liverpool, something that Mbappe's team-mate Angel Di Maria has lamented previously .
But it is that level of opposition which excites Mbappe, and he hopes to square off against many top clubs in the future.
"I always say that the Champions League is the best competition in terms of coming up against top-level players," he added.
"It is a real pleasure to play against great defenders, it helps you progress and brings out the best in you. It is just a pleasure. I want more of it."
Both Mbappe and Neymar missed their club's 1-0 win over Toulouse last weekend as they nursed injuries picked up while playing for their countries.
However, Thomas Tuchel indicated the pair would train Monday , increasing the likelihood they will be available for the crunch clash against Liverpool at the Parc des Princes on Wednesday.