Premier League
'Maybe he was too cheap!' - Klopp full of praise for £75m Liverpool star Van Dijk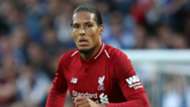 Jurgen Klopp says the £75 million ($83.5m) outlay for Liverpool defender Virgil van Dijk is starting to look like a bargain.
The Reds continued their unbeaten start to the 2018-19 Premier League campaign with a 2-0 victory at Crystal Palace on Monday evening, with Van Dijk the standout performer for the away side.
The Liverpool centre-back again proved his dominance in his aerial battles, shutting out former Reds forward Christian Benteke and his eventual replacement Alexander Sorloth, and proved a starting point for his attacking team-mates.
As such, Van Dijk's importance to the Reds' defensive unit has once again been brought into the spotlight and his manager has suggested that the club had paid too little for the former Southampton and Celtic defender when he arrived in a record-breaking deal in January.
"I don't know a lot of defenders in the world that can defend Christian Benteke 100 per cent of the time, clearly without a foul," Klopp told reporters.
"It was very important that Virgil was there with that kind of presence. His performance was really, really good. It's obvious.
"Quality costs a specific price. With cars it's the case, and with players too. Nobody thinks about it now.
"He's a player in this market who is worth it, and maybe now people think he was too cheap! He loves playing with these boys, and that's the most important thing."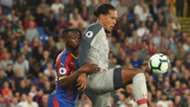 Monday's victory sees Klopp's side start the season with consecutive wins with six goals scored and zero conceded.
And while Van Dijk is proud of his side's back-to-back clean sheets, the Dutchman insists they are not underestimating their upcoming opponents.
"For success you need to do it all together, you win and you lose together," Van Dijk told the official club website. "But obviously we are trying to work hard every day and hopefully we are going to keep on building on this and just keep going – that's the only thing for it and be positive.
"Obviously we know it is going to be a very tough season so we need to be confident but not underestimate anyone. We will just recover from this and be ready for the next game."