KPL
Mathare United defender George Owino's advise on motivating strikers in KPL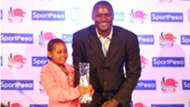 Mathare United captain George Owino has formulated a plan on how to improve the conversion rates among Kenyan Premier League strikers.
Owino, one of the most experienced players in the league, is concerned by the low conversion rate, but the defender believes that something can still be done to sort out the mess.
Currently, Elvis Rupia of Nzoia Sugar is leading the chart with 14 goals, three adrift of Masoud Juma, who won the Golden Boot with 17 goals last season.
"To encourage our striker's in the KPL, to score many goals, I think the prize money for the Golden Boot should not be fixed.
"Like now, the top scorer usually gets Sh500, 000, no matter the number of goals one scores, provided you are the top scorer.
"Why not put it this way, between 10-15 goal (one gets) Sh500, 000, 16-20, goal's 750,000, 20-plus goals gets one million? I think that way our strikers will score many goals' to get to the 20 plus target.
"When you have a fixed amount, it demoralizes players and once someone hits 10 plus goals he is very comfortable but if there is something extra, he will be working hard to get the top prize.
"If we are not careful, we might even have a top scorer with one or two goals in future because oomph to do more."
Former Tusker striker Boniface Ambani jointly holds the KPL record of 26 goals scored in a single season alongside former Gor Mahia striker Maurice 'Sonyi' Ochieng, who hit the target in 1976.
Ambani equalled the record in 2006 and no KPL player has come close to challenging the 12-year record.