Australia
Martin Boyle gets Socceroos green light ahead of first trip to Australia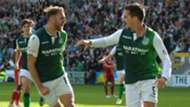 He's never touched foot in Australia, but Hibernian winger Martin Boyle is a strong chance of playing for the Socceroos this month after sealing his Australian citizenship.
The change in allegiances comes after new Socceroos coach Graham Arnold liked what he saw of the speedy attacker and ensured Football Federation Australia did all they could to get Boyle's citizenship over the line.
Currently playing club football alongside Socceroos striker Jamie Maclaren in Scotland, Boyle very quickly caught the eye. 
"Graham watched something like 30 minutes of video clips of me playing and I think he liked what he saw, especially the way I linked up with Jamie," Boyle told the Edinburgh News.
"I think he liked the directness and pace I can bring to the squad. I'm not sure they have a player like me so I'm a different option for him."
With Daniel Arzani and Kenneth Dougall both out injured, the chances of Boyle being named in an upcoming Socceroos squad for games against Korea Republic and Lebanon have sky-rocketed.
Should he be named, Boyle will get his first glimpse of the nation he could well be representing at the Asian Cup in January. 
"I've never actually been to Australia so it would be good to be 'home'," he said.
"I think the squad is announced in the next few days and, if I am selected I'll be very honoured and my family very proud. But then it will be up to me to work hard, give it my very best, show I am there on merit and hopefully do enough to be chosen again for the Asian Cup."
Though yet to see Australia, Boyle is doing everything he can to be ready for his looming call-up, revealing his impressive dedication to learning the Australian anthem. 
"I'm learning it, I'm singing it in the bath, in the car, everywhere I go," Boyle said.
"I'll have it locked down by the time I go and I'll be belting it out if I'm standing in that line before the games."