A-League
Markus Babbel bemoans lack of relegation pressure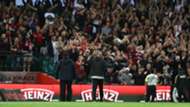 With Western Sydney Wanderers sitting eighth on the A-League ladder, Markus Babbel would in most European leagues be in the dreaded relegation zone.
But having swapped Germany and Switzerland for Australia, the coach merely finds his side in an unwanted position in the A-League with no real consequences for it.
Without the fear of relegation, Babbel admits it's harder to motivate his players. 
"Here in Australia, you live in a paradise city, a paradise country because in Europe, it is much more difficult if you can go down in a second division," Babbel said. 
"Mentally, you want to give 100 percent but you can't because your head is not doing the right things because the pressure is so high. But here, nothing can happen.
"You can't drop down, you play a season and especially in this league, there is not a team here like Paris Saint-Germain or Barcelona."
While the Wanderers were comfortably beaten 4-0 by Melbourne Victory last Saturday, the German coach stressed the A-League is a very even competition and his side should be able to perform against anyone. 
"This is what I don't understand and they have to learn it," he said.
"It doesn't matter if Keisuke Honda is in front of you or now Matt Simon. They are all good players if you give them space.
"But if we do our things right, they have a problem with us and this is what I want to talk about with the players because this is what I can't understand and I can't accept this."
Facing a winless Central Coast Mariners side on Friday, Babbel's side have a golden chance to bounce back or potentially fall to the foot of the A-League ladder.
Somewhere no side wants to be - relegation or not.