Transfers
Manchester United overpay for players because they've lost their strength – Neville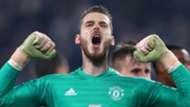 Manchester United's loss of strength has forced them to overpay to keep their stars, according to former Red Devils defender Gary Neville.
The club triggered star goalkeeper David de Gea's option to extend his contract through the 2019-20 this week, as the Spain international would have been free to leave this summer otherwise.
The deal gives United more time to work out a long-term deal with De Gea, with Jose Mourinho suggesting earlier in the week that a contract can be agreed upon.
De Gea is not the only player whose contracts may become a sticking point in the near future, as Anthony Martial also could leave in 2020 summer, even should the club trigger his option for next season as expected.
It leaves both with better bargaining power when it comes to wages and Neville feels players are able to do that with increasing frequency due largely to the weakened bargaining position of the club.
"Manchester United feels like a football club which is having to overpay to keep players because they are not in a position of strength, they are running their contracts down basically," Neville said.
"It's happened since Sir Alex Ferguson left – with Wayne Rooney, Adnan Januzaj, David de Gea before, Anthony Martial.
"Players are being allowed to run them down because the club isn't in a position of strength, then they are having to overpay."
The reason for that weaker position according to Neville, is that interest in joining United have decreased in recent years – something Jose Mourinho lamented in his media conference on Friday.
The result is that unlike with their rivals, United are finding few options to replace their departing stars, which the players are fully aware of.
"Other clubs are having to pay, don't get me wrong, but are basically in a strong position where they say: 'No problem, we'll sell you and get another player for this team, they are queuing up to play' and that's the problem Manchester United have at this moment in time," Neville added.
"They have lost their strength, bargaining and having to overpay and negotiate hard with their own players.
"It's a slight worry but definitely a positive that De Gea looks like he is going to sign that extension."