Wydad Casablanca v Mamelodi Sundowns
Mamelodi Sundowns progress in the Caf Champions League: What has Pitso Mosimane done right?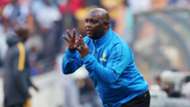 Mamelodi Sundowns have once again progressed to the knockout rounds of the Caf Champions League.
It is their third time in four attempts that they have moved on to the next round and this suggests that Sundowns coach Pitso Mosimane is certainly doing something right.
The 54-year-old is quickly making a name for himself and continues to prove that the previous 2016 African title was no fluke, despite what his detractors might say.
Sundowns' recent success on the continent puts them amongst the best teams on the continent and this is down to their desire, game intelligence and bravery.
Mosimane and his technical team have put in hours of work to scout out their opponents.
This is the difference between many of the South African clubs who often take the opposition for granted. 
Sundowns hardly ever go into their games blind and this has paid dividends.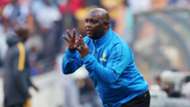 In addition to this, Sundowns' ability to win at home and avoid defeat away, holds them in good stead.
In this year's competition, Sundowns lost just one game in Group A which came in an away fixture against Lobi Stars.
However, they have registered wins over all three of their opponents at home which has benefitted them in their pursuit of progression.
Also, the fact that Sundowns earned a hard-fought draw in Abidjan is something to consider. South African sides are often not the best of travellers, but Mosimane has got this right. A calculated and measured approach is what is needed in hostile environments.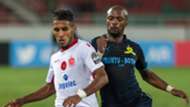 Often Mosimane chooses a more pragmatic approach when playing in North and West Africa in particular.
Naivety is a club's greatest weakness but Mosimane avoids letting this sink in, and when it does, it's also his ability to alter his tactics and learn from his mistakes which sets him apart from other coaches.
This bounce-back ability displayed itself earlier in the group stage following the 2-1 loss to Lobi Stars.
Sundowns were immediately back on their horse as Mosimane used one of two approaches.
Away games saw his side come out the gates blazing, but his side eventually shifted into a more conservative approach.
At home, his side tends to do the talking on the field and they look to dominate their opponents.
Going into their final game against Wydad, Sundowns are left with one last opportunity to impress and a result in Casablanca will only further prove his astuteness on the continent.