Lebanon v Malaysia
Big changes for Malaysia due to what the fans demand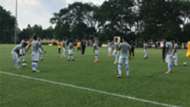 "I will take full responsibility."
That is what Tan Cheng Hoe said after a major shake-up in the Malaysia national team following the disappointing 2-2 draw against Mongolia on Thursday night. Barely 24 hours after the dust had settled on Malaysia's first international match of 2018, 14 players were released and nine others were brought into the squad.
Coincidentally, all 14 players that will no longer be a part of the team to face Lebanon and Nepal are from one club, Johor Darul Ta'zim. Their places in the squad have now been handed to players from Kedah, Perak, Pahang, PKNS FC, Kuala Lumpur and PKNS FC respectively.
Syawal Nordin, Shahrel Fikri, Shahril Shaari, Jafri Firdaus Chew, Nazirul Naim, Syazwan Zaipol, Nor Hakim Hassan, Zaquan Adha and R. Kogileswaran are now in contention to be on the Saturday morning flight to Lebanon for the final Asian Cup group stage qualifying match. 
"Before the match against Mongolia, us coaches have selected players we feel are the best available in the country. After the match, because of the result and subsequent criticism that we field 90% JDT players, we want to give chances to other players for the Lebanon game. Hence we released the JDT players."
"It was decided after the match [against Mongolia] and I've called up 9 players. This is what the fans want and us coaches will take the responsibility for it. I will take full responsibility for what I said. I will have to face whatever criticism that comes with this decision.
"What is important is that I continue to do my best but if possible, to get the fans and people of Malaysia to support us. We can't force anyone to support us but I'm hoping that they do because football is the pride of the country despite what is arguably the worst time in our history. 
"I always try to stay positive and my next focus is for the Lebanon game only. The rest I have no comment. Football is a game for everyone and if that is what the fans want, we will follow. I will make sure that the players here will give 100%," said Tan before the start of Friday's training session.
This development comes as a major surprise after Tan said in the post-match press conference after the Mongolia match that the team still requires the services of experienced players like Safiq Rahim and even went on to praise the performance of Ignacio 'Natxo' Insa in midfield.