Malaysia Cup
Malaysia Cup group stages lacking fans presence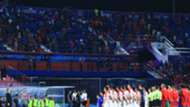 The oldest cup competition in Malaysia, the Malaysia Cup was once the pride of the nation and one of the most coveted trophies that the players, fans and teams aim for but the attendance turnout in the group stages showed that the allure of the competition is no longer what it once was.
After five rounds of matches across four groups which amounted to 40 matches played, the competition has yet to witness a full stadium. All 16 teams are struggling to pull fans into the stadiums for the competition that started in August after the completion of the 2018 Super League season.
The three teams that have drawn the most crowd to their venues are Johor Darul Ta'zim, Terengganu FC and Kedah in that order. Only four teams have managed to hit double figures in terms of turnout over capacity percentage, with Sabah being the other. 
Perak, Pahang, Kelantan, MIFA, Kuala Lumpur are the only five teams in the 5%-10% range while all the other seven teams remaining all fall below the 5% mark. The highest attendance in a single match was the one at Tan Sri Dato Haji Hassan Yunos Stadium when JDT hosted Kedah with 8680 fans while the lowest was 152 during the KL versus Felcra FC match.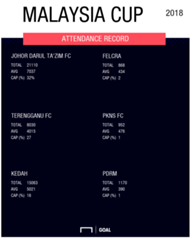 Some might put the blame on the return of European football that meant fans prefer to watch their favourite world footballers in action rather than the local teams that they support but that is only one small aspect of it.
There are also quarters who lay the blame at the door of the competition organisers who have been showing most of the match live whether on television or through streaming applications but that is also running away from the real issues.
The Malaysian Football League (MFL) and participating teams in particular have to do more to encourage and drive fans back into the stadium regardless of whether the matches are shown live or not. 
Additional services or entertainment on top of just fans attending the matches at the stadium have to be looked into. Whether that is just programs being organised in the surrounding area of the stadium or just a simple availability of better food and beverage that can attract fans to make it a family outing - each team will have to see what suit their respective target audiences.
One thing or another, action need to be taken to ensure that the most illustrious cup competition with a rich history not only within Malaysia but also in the region, does not continue to take a pounding and fade into the sunset.