Rabah Madjer
Madjer 'enjoys all our trust and support', says Algeria FA boss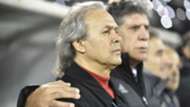 The Algerian Football Federation has thrown its weight behind national team coach Rabah Madjer, with its boss Kheireddine Zetchi saying the ex-international 'enjoys all our trust and support'.
Last year October, Madjer took over from Lucas Alcaraz after a disastrous World Cup qualifying campaign. And the handler has come under heavy criticism which reached its peak following the Desert Foxes' 2-1 defeat to Iran in last month's friendly.
But the federation's boss insists the former Porto player has his full support.
"I can confirm that my trust in Madjer is total. He enjoys all our trust and support," Zetchi was quoted as saying by Le Buteur.
"The national team is in full reconstruction, so we must provide all the support to the coach. We last played two friendlies against Tanzania and Iran. There are positive things and negative things. I can also tell you that the national coach will review some things, it's clear."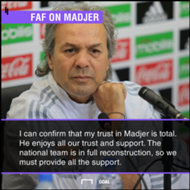 Madjer prefers to have his assistants at press conferences; a move he feels would create room for 'a little peace', in a chat with Goal.
However, Zetchi said that the former 59-year-old felt 'attacked personally' by the media but regardless, he maintains respect for them.
"Madjer is very kind. I can even assure you that he is very respectful of the press. The national coach did not hold the point of press because he felt that he was attacked personally, something that none of us can abide," he continued.
"Do not affect people in their self-esteem or in their personality. You have to respect people and that's the least you can do. We must stop so that we can open a new page."