Premier League
'Lukaku has been top drawer' - Man Utd treble winner Cole lauds 26-goal lone frontman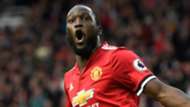 Romelu Lukaku's debut campaign at Manchester United following a £75 million move has been hailed as "top drawer" by treble-winning frontman Andy Cole.
Jose Mourinho invested considerable faith and funds in the Belgium international striker back in the summer of 2017.
It has not been the smoothest of rides for the 24-year-old at Old Trafford, with the odd dip in form seeing him thrust under the microscope at one of world football's biggest clubs.
Cole, though, knows all about the pressure of leading the line at United and believes a man who has netted 26 times across all competitions - including a 100th effort in the Premier League - can be considered a rightful heir to the famed No. 9 jersey.
A forward that landed eight major honours during his time with the Red Devils told MUTV: "Lukaku has had a very good season.
"I think it has probably been a lot tougher than he would have thought and now he appreciates that you can't have a weekend off at Manchester United, which he could have done at his previous clubs Everton and West Bromwich Albion. 
"Here, you can't afford to do that. But he has played the majority of games and that says a lot about him. He has not been injured and, for his first season, I think he has been top drawer."
Cole's best return for United across seven-and-a-half seasons was 25 goals in 1997-98.
He has seen Lukaku better that tally 20 years on, and without the kind of support that a predecessor at Old Trafford enjoyed from the likes of Dwight Yorke, Teddy Sheringham and Ole Gunnar Solskjaer.
Cole added: "It is difficult to be a lone striker and especially if you don't get the service at times.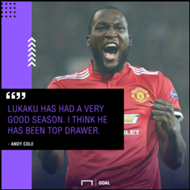 "It could be described as the graveyard shift because it is very, very tough. Sometimes people have questioned Romelu this season and said he has not done this or that, but you have to be brutally honest: if you don't get the service as a lone man then it is very, very tough.
"That is why I keep saying he has done very well this season. He has already got himself 26 goals in his first season playing for United as a lone striker. I am not saying we create a million and one chances for the boy either. He has done really well and fair play to him for his goal return.
"You can see the development in us. But we have to brutally honest and say the other part of the city has been absolutely fantastic, with the football they've played, and the fact they've only lost one league game this season says it all. It is a gap that needs to be closed and hopefully next season we will do. 
"If we do finish second then we can look at it as a positive, even though finishing second is not what everybody wants to see at Manchester United. But it is a positive compared to last season." 
Lukaku and his United colleagues will be hoping to delay Manchester City's Premier League title party on Saturday when they travel to the Etihad Stadium for a derby date with plenty riding on it.