Indonesia
Milla's career advice for Egy Maulana in Polish adventure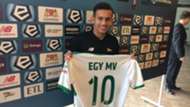 Head coach of the Indonesia Under-23 Luis Milla is delighted that Egy Maulana Vikri has managed to realise his dreams of playing in Europe. Egy was officially announced by top tier Polish club Lechia Gdansk yesterday.
Originating from Medan, Egy will be part of the Lechia squad for the next three seasons and Milla is hoping that Egy can have a good career in Europe, especially in Poland where the culture is very different from Indonesia.
"We wish Egy the best. He will be playing football in a new place. I hope he can develop over there and equip himself mentally because Poland will be very different to Indonesia," said Milla through Indonesia Football Association website, PSSI.
The move could possibly impact Egy's involvement with the Indonesia U19 and U23 teams as it will be a jam-packed year what with the Asian Games as well as the AFC U19 Championship that will both be played in Indonesia.
"We will keep monitoring Egy's progress in Poland because I know that he is a quality player and one that is very important to the national team," added the Spaniard.
Due to Egy still being under the age of 18, he will not be part of the Lechia first team squad. Chances are, Eqy will only join the squad next season when he turns 18 this coming July.