Arsenal v Standard Liège
LIVE Stream: Arsenal v Standard Liège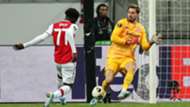 The 2019-20 season of the UEFA Europa League is rumbling on. Arsenal are set to host Standard Liège in the second group stage clash.
Arsenal will be looking to establish a vice grip on the grop, having started the campaign with a rousing win over Eintracht Frankfurt. Does Standard Liege have what it takes to give the Gunners a run for their money?
Watch this match LIVE & Exclusive on DAZN's YouTube and Facebook pages (for fans in Thailand, Laos, Cambodia and Philippines).
100 per cent free, legal and uninterrupted LIVE stream. No credit card needed, just visit and watch. Watch on any device, anywhere - mobile, desktop & laptop.
The stream begins at 2:00 am (Thailand/Laos/Cambodia) and 3:00 am (Philippines) on Friday.