UEFA Champions League
LIVE Stream: Tottenham Hotspur v Bayern Munich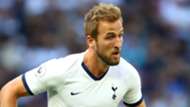 The 2019-20 season of the UEFA Champions League is rumbling on. Tottenham Hotspur are set to host Bayern Munich in the second group stage clash.
Can Spurs notch their first win of the European campaign against the German giants or will Niko Kovac's men continue their juggernaut at the Tottenham Hotspur stadium?
Watch this match LIVE & Exclusive on DAZN's YouTube and Facebook pages (for fans in Thailand, Laos, Cambodia and Philippines).
100 per cent free, legal and uninterrupted LIVE stream. No credit card needed, just visit and watch. Watch on any device, anywhere - mobile, desktop & laptop.
The stream begins at 2:00 am (Thailand/Laos/Cambodia) and 3:00 am (Philippines) on Wednesday.