Singapore
Lions on the right track to regaining their roar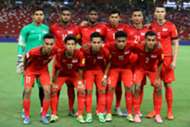 Singapore recorded their first win of the Fandi Ahmad era in what was a hard-fought physical game against the burly players of Fiji.
Captain Hariss Harun and Ikhsan Fandi each scored to give the Lions a comfortable 2-0 win at the Bishan Stadium. In the last game, we mentioned how Fandi had injected youth into his team as he looks to fast-track the development of some of Singapore's talented youngsters.
One such youngster who received the nod to start in the midfield was Young Lions' Jacob Mahler. At just the tender age of 18, he gave a mature performance in the centre of the park, holding his own alongside captain Hariss.
Mahler kept his passing tidy and demonstrated toughness by simply picking himself up after several rough challenges by some of Fiji's bigger players. That impressed his coach who commented on how Mahler has a much matured disposition, post-game, considering the fact that most players his age would have reacted rashly.
But it wasn't just Mahler who managed to make an impression, with Fandi making several changes, Ho Wai Loon who is remembered by Singaporean fans for earning himself a red card during the 2015 Southeast Asian (SEA) games under-23 football tournament, also managed to show his worth.
What Fandi has done for the national team well is his ability to create a healthy mix of youth and veterans in the squad although one feels he still has yet to decide, on the formation to get the best out of his players. The win against Fiji will be morale-boosting for the Lions but they shouldn't get carried away as their opponents were made up of mostly amateur players.
Indeed for Fandi he acknowledged that it will still be tough for Singapore in the AFF Suzuki Cup especially when they are being placed in the group of death. He continues to urge caution against fans who think Singapore is able to match the likes of Indonesia and Thailand.
However though seeing the camaraderie of the Lion side, you get the feeling they may spring a surprise come November. But for now considering how Singapore football has been gloomy lately let's thank the footballing heavens that at least the Lions are on the right and not on the wrong side of the track.