Malaysia
Lim Kim Chon joins the set-up at neighbours Thailand FA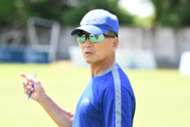 ---
 BY       OOI KIN FAI      Follow on Twitter
---
On Friday, it was announced that Malaysian Lim Kim Chon has signed a contract with Football Association of Thailand (FAT) to be their new head of coaching education.
In his new assignment, Lim will be in charge of the all levels of coaching course - from the AFC 'C' Certificate Coaching course to the FC Pro Diploma Coaching course.
The 62-year-old had previously worked with Football Association of Malaysia (FAM) as well as the Asian Football Confederation (AFC) as a technical director.
This contract with the FAT is expected to last over a 2-year period.
Lim is of course the elder brother of National Football Development Programme (NFDP) director, Lim Teong Kim.
While it is great to see a Malaysian coach being valued overseas, the question that has to be asked is why such talents not being retained in the country to help Malaysia's own football development - whether from a player or coaching aspect.