Simba
Lechantre: I won't under estimate Gendarmerie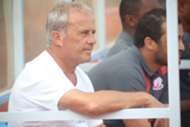 After their 4-0 victory in the CAF Confederation Cup against Gendarmerie of Djibout, Simba's Head Coach Pierre Lechatre has revealed that he won't under estimate their opponents in the second leg of the tie when they meet next week.
Simba only need a draw or not to lose by more than a 3-0 margin to qualify for the next round and have a large possibility of facing El Masry from Egpty in the next round.
Speaking to Goal Lechantre, said the 4-0 victory does not make them complacent but they will continue training hard to make sure they play well and win the second game and qualify for next round.
"I congratulate my players for the good job done, but we respect our opponents Gendarmerie because the next match they play at home so we must be careful in order to reach our targets," said Lechantre.
The French coach said he knows once they qualify they will meet Al Masry and concedes that it will be a tough encounter but he is not worried because he has a good squad.