Premier League
Lauren tips Bellerin to become Arsenal's greatest ever right-back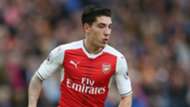 Hector Bellerin has been tipped to become Arsenal's greatest ever right-back by former Premier League title winner Lauren.
The Cameroonian was a stand-out performer for the Gunners in his day, making 242 appearances for the club over the course of a six-year spell.
Mustafi targets unbeaten season
He will forever be remembered as part of the 'Invincibles' squad that went an entire top-flight campaign unbeaten in 2003-04, with his place in club folklore secure.
Lauren's efforts saw him following in the footsteps of some other iconic full-backs to have graced the books in north London, with the likes of Pat Rice and Lee Dixon among those to have earned silverware and international recognition during lengthy stints with Arsenal.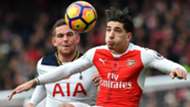 Bellerin is the latest to have picked up the baton, and the 21-year-old Spaniard has been told that he could go on to become a legendary figure in his own right if he maintains his current standards and steers clear of injury.
Lauren told The Guardian: "Bellerin is very, very good.
Wenger responds to Benzema talk
"He's good with the ball at his feet, reads the game, gets beyond defences, crosses well, plays between the lines. And he's so young – if he stays injury-free he'll surpass me, Lee Dixon, Pat Rice, everyone who's played there."
It is not just Bellerin that has been impressing Lauren, though, with Arsene Wenger now boasting the strength in depth at Emirates Stadium that has been missing for some time.
Lauren: How Arsenal became invincible
"The squad is better every year; I don't remember one this strong for a long time," added Lauren.
"In defence, we've signed well with [Shkodran] Mustafi; in attack with Lucas [Perez], in midfield with [Granit] Xhaka.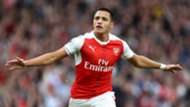 "I look now and it's not just the XI; players can come on and make an impact. [Alex] Iwobi, Lucas Perez, [who] I like a lot, [Alex] Oxlade-Chamberlain. [Theo] Walcott's showing more."
There are, however, still jewels in the crown, with Arsenal currently in embroiled in contract extension sagas involving Mesut Ozil and Alexis Sanchez, with Lauren eager to see both men commit as soon as possible.
Wenger: My critics would like to jail me
He said: "The club have reached the point where they should keep their best players to aspire to more.
"It's been a club that sells its best for years [and] there were economic needs, but not any more."