PSL
Lane: Orlando Pirates players have no heart for the team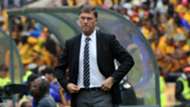 Legendary Orlando Pirates defender Gavin Lane says Swedish coach Kjell Jonevret has shown the tactical to turn the things around at the club, but said the players need to step up to the plate as well.
"With the current crop of players, there's no heart. I mean, when I was playing, there were a good bunch of guys," Lane told TimesLive.
"There was only a squad of about 20, and the team spirit was very good. And when you donned a Pirates shirt, it was one of the most important things in my life," Lane said.
Jonevret joined the team midway through the season, with the damage pretty much done following the prior tenures of Muhsin Ertugral and Augusto Palacios.
"In the last few years the players are there just because they are names. I was very upset about this season, but I totally believe in this new coach. He's obviously got some tactical abilities. He's got to learn South African soccer - that's the biggest problem," Lane said.
Lane is pleased with how Bucs have improved under Jonevret, and believes he can succeed in South Africa.
"He came in there and he had a loss and a draw, draw, draw, but I think he's got to understand that it happens to any foreign coach coming into SA. South African players, and the way they want to play compared to overseas, and things like that, but I think everyone can adapt to the style. I think he's got enough quality and understands football. Tactically Pirates looked like they did improve under Jonevret," Lane concluded.