Alexandre Lacazette
Lacazette: I think Premier League refereeing can be dangerous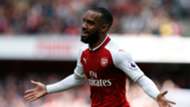 Arsenal's record signing Alexandre Lacazette has admitted that he feels Premier League refereeing can be dangerous as he continues to adapt to life in English football.
Lacazette 14/1 to be PL top scorer
A clinical and prolific goalscorer in Ligue 1 with Lyon, fans and pundits wondered whether the striker's form would translate after his move to the Emirates, given the physical nature of the Premier League.
And while he has done well to keep the doubters at bay with four goals in seven games for the Gunners, Lacazette admits that he is still getting used to some of the grittier things English officials allow to happen during the course of a match.
"I have not totally adapted yet, there are things that still surprise me, but I am trying," the 26-year-old Frenchman told SFR Sport. "I've watched quite a few matches to understand English football.
"I watch quite a lot of my matches with Arsenal and when I look back and see what I didn't do right, I try to learn from it, which hopefully facilitates my progression. 
"The refereeing decisions [still surprise me]. Sometimes I think it is a bit dangerous.
"But then I see that nobody is shocked, so I tell myself it must be normal."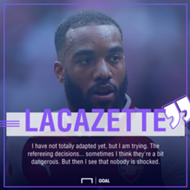 One thing that should help the striker in his transition is the ability to lean on Gunners legend Thierry Henry, a personal hero of Lacazette, for advice.
"Henry was my idol, we talk a lot. He gives me advice, and if I have some questions I know I can count on him."
Arsenal are next in action with an away trip to Watford when the Premier League returns to action on September 14, after the international break.