Kwara FA charges ABS to get Nigeria Professional Football League ticket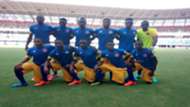 Abubakar Bukola Saraki Football Club have been challenged to book a place in the Nigeria Professional Football League next season.

The Ilorin based side got demoted to the Nigeria National League and would be hoping to return to the highest cadre of club football in Nigeria.
And chairman of Kwara State Football Association, Malam Busari Ishola has challenged the team to work diligently to achieve this goal.
"I want to commend you people for doing a great job at ABS, developing talents," Ishola said during the team's courtesy 
"I must commend the Senate President, Dr. Bukola Saraki, for still keeping the team because it is not easy to own a football club in Nigeria.
"The club has produced so many good players, these are players picked from the streets.
"Please keep this up and assemble a team capable of returning the team to Premier League next season."
Earlier in his speech, the Coordinator of the team, Idris Musa, said the management came to thank the FA for its support to the team.
"We are here to thank you for your support to our team, especially your fatherly advice," he said.
"We are also doing consultation ahead of the new Nigeria National League (NNL) season which may commence anytime soon.
"Please feel free to call our attention to where you think we are getting it wrong."