Real Madrid
Kroos: Ter Stegen is the perfect goalkeeper...for Barcelona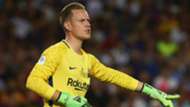 Toni Kroos considers Marc-Andre ter Stegen to be "the perfect keeper" but is not trying to lure him across the Clasico divide from Barcelona to Real Madrid.
The pair are international team-mates with Germany and are expected to line up alongside one another over the next few days as Bayern Munich star Manuel Neuer remains sidelined.
His absence has opened the door for Ter Stegen to see regular minutes in a World Cup year, with the 25-year-old enjoying another impressive domestic campaign with Barca.
Kroos has watched on from afar as his close friend has helped his side to eclipse the efforts of those in Madrid, with the classy midfielder quick to talk up the qualities of a man branded 'Messi with gloves'.
"I like Ter Stegen a lot," Kroos told AS.
"Marc is one of the best in the world and without doubt he is the perfect keeper… for Barcelona. 
"The best thing about Ter Stegen is that he makes very few mistakes. He's perfect for Barca because he starts moves from the back and there aren't many keepers who can do that."
While saluting ability of a club rival, Kroos has also paid homage to a couple of star turns working alongside him at Santiago Bernabeu.
Germany's upcoming fixtures are set to pitch them into battle with Spain and Brazil, with the second of those outings set to see Kroos come up against Blancos colleagues Casemiro and Marcelo.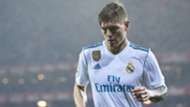 The World Cup winner added on the South American duo: "They are two of the best in the world in their respective positions. 
"At Madrid it has been evident how important Casemiro is in maintaining the balance of the side, and what can I say about Marcelo? He is the best left back on the planet.
"Brazil are definitely among the favourites to win the World Cup."
That was the case four years ago, though, and Germany dashed the dreams of the home nation with a 7-1 demolition of Brazil at the semi-final stage – with Kroos netting twice in a remarkable contest.