Manchester City
Kompany: I'd be done and dusted if I needed time to adapt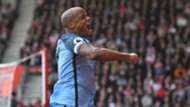 Vincent Kompany says he is relying on his experience and what he picks up in training to get him through his various Manchester City comebacks.
Kompany scored City's opening goal and was named man of the match against Southampton on Saturday on just his seventh start of the season.
Why Kompany masterclass was so impressive
The Belgian has been unable to nail down a consistent role in the team over the past two seasons due to a number of recurring fitness problems.
Having missed pre-season and made three separate attempts at returning to the team in the autumn, Kompany could only manage one match between the middle of November and the start of April.
City boss Pep Guardiola has always stressed that he has never doubted the centre-back's quality, but revealed that he was unable to judge his suitability to the Blues' passing game because the captain has missed so many training sessions this season.
Kompany was in impressive form as he played his second of City's last three games at the weekend, and said afterwards that he can draw on his long career at the top level to get him through, even if, he insists, his physical fitness "does not matter".
"I would have been done and dusted if I needed to get back in and need time to adapt every single time," he told reporters. "I have been lucky I can make use of a tremendous amount of experience. Where I am at physically does not matter. I know what I have to do and as long as I can organise the people around me, I can always get a performance.
"The main thing is self-belief and experience. I cannot say how valuable it is because if I was 20 years old I would not have done it that way but I am lucky to have good players surrounding me.
"I follow a lot of what is happening and in training so I understand what needs to be done. I can kind of help to implement it but other than that, I stay really calm because it is always about the next game."