Transfers
Klopp told to sign Butland and turn Liverpool into title contenders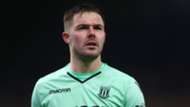 Liverpool have been urged by former goalkeeper Ray Clemence to sign Stoke City's Jack Butland this summer and turn themselves into serious title contenders.
While the Reds have flourished in the Champions League this season, with one foot in the final on the back of a 5-2 first leg victory over Roma at the last four stage, they have once again failed to piece together a challenge for the Premier League crown.
Clemence, like a number of others, believes that is down to defensive deficiencies – particularly between the sticks.
With £75 million having been invested in Virgil van Dijk to shore things up at the heart of the back four, an iconic figure at Anfield is now looking for Jurgen Klopp to dispose of Simon Mignolet and Loris Karis and raid another domestic rival for a reliable No.1.
The ex-Reds keeper told supporters in Fort Lauderdale during a mini-tour of the United States, as reported by the Liverpool Echo: "For 18 months at Anfield I was watching them and I was closing my eyes because I didn't know what the hell was going to happen. If only I had a pair of gloves!
"I know Simon Mignolet really well I keep in contact with him on Twitter and stuff and I feel sorry for him.
"I looked at the two keepers at the start of the year and thought 'Simon Mignolet is a good shot stopper, he's not great on crosses, not great on distribution and I'm not sure how he controls the back four, though it is more difficult now because you have different nationalities in front of you'.
"And then I looked at the German lad [Karius] and I thought, 'Good looking lad but I'm not sure what his strengths are.
"I didn't look at him as a great shot stopper I didn't look at him as someone who commanded his box. His distribution was probably better than Mignolet's.
"So, obviously Mignolet made mistakes, the other fella he came in, he made mistakes. And to be fair to Jurgen, he's obviously decided, 'He's not for me and the other lad is going to have a chance at the end of the season'.
"Now to be fair, the last four weeks I've seen some improvement in him. I still think he doesn't do right but he's better than what he was.
"So I still think to be a team that has got a chance of winning the league title is that we need a top quality goalkeeper.
"I'd go with Jack Butland of Stoke. I've known Jack since he was 15. I've worked with him since he was 16.
"If ever I saw somebody who was focused on being the England goalkeeper, or being a top goalkeeper from a young age it was him.
"He's one of these lovely people ... when you are talking to people, it's great when they look you in the eye and you know they are taking it in, and they want to learn from experienced people."