Liverpool
Klopp doesn't need a Liverpool trophy this season – Barnes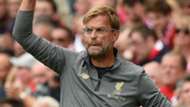 Jurgen Klopp is under no pressure to win a trophy for Liverpool this season, according to club legend John Barnes.
The Reds were runners-up in the Champions League final last term but finished a distant 25 points behind Manchester City in the Premier League. 
Barnes, a member of the Liverpool squad that last won the English title in 1990 and playmaker of international repute, has said he would rather see the gap to Pep Guardiola's men close than the team pick up a minor trophy.
"Well, would we rather get silverware and win the League Cup and finish 25 points behind City or finish second behind City by three points and not win silverware?" he said to the Star.
"That for me is more important. That shows progress. 
"That shows that you're going to be consistently challenging at the highest level for the league and that will mean they'll be challenging in cup competitions. 
"So the whole idea of needing silverware, for me, is not as important as getting much closer to the top. 
"Because if you're much closer to the top of the Premier League, that means that you're consistently winning matches and playing well which would help you in cup competitions as well. 
"Yes, it would be nice to win a trophy, but I'd rather not win a trophy and finish second, seven or eight points off the top."
The Reds last tasted success in the 2011-12 League Cup, when they defeated Cardiff City 3-2 on penalties after a 2-2 draw.
They have made a promising start to their Premier League campaign this season, as they are one of three teams, along with Watford and Chelsea, to have made a perfect start to the season through four matches.
Klopp's men put their 100 per cent record on the line against Tottenham at the weekend.