Liverpool
Klopp accepts FA misconduct charge for his on-pitch celebrations during Everton win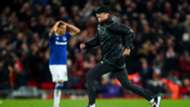 Liverpool manager Jurgen Klopp has accepted a Football Association charge following his celebrations in Sunday's Merseyside derby victory against Everton.
The German irritated a number of Everton fans by running onto the pitch after Divock Origi's injury-time winner to celebrate with Liverpool goalkeeper Alisson.
Goal understands Klopp will escape a touchline ban for the incident, although he will be fined - with the fee reported to be in the region of £8,000 - and given a warning by the FA over his future conduct.
Although Klopp did apologise for his actions after the game, the FA has chosen to take action against the 51-year-old.
"First of all, I have to apologise for my run," the Liverpool boss told BBC Sport after the game. "I apologised immediately after to Marco Silva, I didn't want to be disrespectful."
And talking to reporters on Tuesday, Klopp accepted that he broke the rules and had no complaints over the FA's decision.
"I couldn't avoid it but if everybody did it every week... that's what the rules are for," he told a news conference. "If you break the rules you have to be fined for it. That's no problem, it's completely normal.
"The last time I did it was around 14 years ago. In 14 years I am probably not that quick anymore!
"I didn't want to do it and that's why I can now say it will not happen again because it was not on my radar that it's possible for me still. It was really long ago that it happened last time.
"But in that moment it was very special and it happened. That's all. Nothing else to say about it.
"I have no problem to pay a fine... we all make mistakes. Usually I learn from it. At least for a long period. It will not happen that quick anymore.
"It's not a massive mistake. If there would be no rule against it then probably we as managers would constantly celebrate on the pitch and we would say that's nice and the whole bench would run there. That's the strange thing.
"I don't think anybody thought it's massively wrong or whatever. Not even the ref... they were surprised by themselves maybe that somebody was running in that direction. It's quite difficult. It happened, it's a fine, I pay that, let's carry on. That's all."
The lack of a touchline ban means Klopp will be in the dugout when Liverpool face Burnley on Wednesday. A win for the Reds could move them to up to first place in the table depending on Manchester City's result against Watford on Tuesday night.
The former Borussia Dortmund coach will be hoping his side do not leave it quite as late to find a winning goal this time around.
Divock Origi's header in added-on time caused pandemonium at Anfield on Sunday and ensured Liverpool stay within touching distance of City, who are two points ahead of the Reds.
It looked like Everton were set to gain a point away from home in the derby for a second season in a row, but Jordan Pickford's error presented the Belgian striker with an easy finish and a crazy ending, that Klopp admitted after the game is a rarity.
"Not often, it happens from time to time but not very often," he said. "Thankfully, because it is better for the heart if football games are decided earlier."