Africa Women Cup of Nations
Kenya's relationship with Caf set to hit rock bottom as Nick Mwendwa vows to push for justice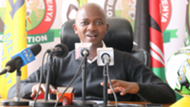 Kenya's relationship with Caf is set to hit a rock bottom after FKF vowed to ensure that they refund the money that Harambee Starlets used in camp before the team was thrown out of Awcon.
FKF wants Fifa Court of Arbitration for Sports (CAS) to compel Caf to refund FKF the money used to prepare Harambee Starlets for the 'aborted' Awcon finals.
The Kenya-Caf drama started when the latter kicked Equatorial Guinea out of the Awcon final with their place being taken by Kenya, barely a month to the tournament's kick off in Ghana.
But Caf would then make a U-turn when the body's appeals committee found Equatorial Guinea 'not guilty' of fielding an ineligible player during the Awcon qualifiers. That move, which was announced barely two weeks to the kick-off, technically kicked the East African nation out of the bi-annual competition.
But FKF protested the move, accusing Caf of ruling on the case without listening to Kenya's side of the story. "We were not even aware that Equatorial Guinea appealed the Caf's initial decision. We were never given the right of reply," said Mwendwa.
An agitated Mwendwa, has since moved to Fifa to compel Caf to pay for the expenses Harambee Starlets incurred during the two-week residential camp in Nairobi.
Mwendwa's push for justice, however, might turn out to be a protracted battle that might lead to a bad relationship between the 'father and son'. However, a defiant Mwendwa is not afraid of the consequences. "Caf never elected me. I was elected by Kenyans to work for them and that's what I'm doing. I don't fear Caf.
"I will be present to ensure that Fifa compels Caf to refund Kenyan taxpayers their money, used to prepare the team. Remember, we were kicked out of the tournament with barely a week to kick-off, yet we were never given any chance to respond to the appeal by Equatorial Guinea."