Malaysia Cup
Kenny warns that Perak will look to attack JDT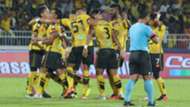 Needing an away goal of their own, Perak will throw caution to the wind when the line up opposite Johor Darul Ta'zim (JDT) in the second leg of the Malaysia Cup semi-final at Tan Sri Dato Haji Hassan Yunos on Saturday.
Despite holding the mighty JDT to a 1-1 draw in the first leg in Ipoh, The Southern Tigers holds the vital away goal which means that Perak will not go to the final if they cannot find the back of the net in Johor Bahru.
Given the predicament, Perak's midfielder Kenny Pallraj is clear what needs to be done in the second leg and that his team will be approaching the match in a positive manner to get what they require to advance to the next stage.
"For sure we have to go out an attack. No point for us to defend. Because if it's 0-0, they will qualify, so we'll be going for a goal first. Always it has been a motivating game when it comes to JDT. We take it as a challenge which we want to do well," Kenny told Goal in Johor Bahru.
Alongside Shahrul Saad and Ahmad Khairil Anuar (Beto), Kenny are the trio of midfielders who were brought in as replacements for Leandro Dos Santos, Hafiz Kamal and Nazrin Nawi. With neither of the latter trio available, Mehmet Durakovic has little choice but to count on the former three midfielders once again.
All three of Shahrul, Beto and Kenny gave very good account of themselves in the first leg and buoyed by the experience, they will be looking to ensure that the unavailable players will not be overly missed.
"I feel like it's an opportunity given to me. I've been training for so long and not playing for so long. But now that it has come to the semis, it's my turn to play. So I'll have to do my best," added Kenny.
There will be a massive difference for Kenny and his team mates when they enter the cauldron of Larkin Stadium, where the majority of fans will be against them rather than for them like it was back at Perak Stadium. Should the 24-year-old and the rest of his team be able to hold their nerves, JDT are bound to face the fight of their lives to reach their first Malaysia Cup since the rebranding of the club.