Nigeria
Katsina United's Abdullahi Biffo expresses relief following end to NFF crisis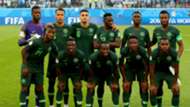 Katsina United coach, Abdullahi Biffo sees the end to the feud in the leadership of the Nigeria Football Federation as a big relief to the nation's football.
Biffo noted that an international ban from Fifa won't have been adequate at this point in time and the gaffer disclosed that the NFF must find a lasting solution to the incessant crisis that has become a norm to the sport at every election year.
He called on football administrators in Nigeria to think of the consequences of their action on the players who are the major stakeholder of the game and that a roadmap must be put in place to halt possible problems that could surface again ahead of an election year in the future.
"I think it is a big relief that issues regarding the NFF crisis have been settled," Biffo told Goal.
"It would have been a big setback and disappointment had we suffered a FIFA ban. I am happy that they have been able to resolve it.
"I hope they learn from this ahead of the future elections. We must learn to do the right thing so that we do not become the laughing stock of others."