Simba
Kapombe keen to play in the CAF group stage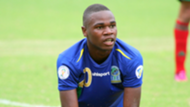 Simba's defender Shomari Kapombe believes that his side will book a place in the group stage of the CAF Confederation Cup.
Kapombe who played the full game in the 2-2 Simba's draw with Al Masry in the first leg tie at home said that the game is still open and any team can move forward to the next step (group stage).
"The tie is not finished yet, still every team has a chance to progress, we will head to Cairo only for one purpose and that is to win and move forward to the group stage," said Kapombe. 
Goal Understands that, Simba squad will travel to Egypt on Wednesday in order to make early preparations before their big encounter on Saturday.
In the first leg, two goals scored by skipper John Bocco and Ugandan Emmanuel Okwi were not enough for Simba to seal the victory because Masry also scored two through Ahmed Gomaa and Ahmed Shoukry to make the tie in balance.