England
Kane: England have been practising penalties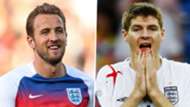 Harry Kane has revealed that England have been working on penalties in the lead up to the World Cup as they look to improve their dismal record.
The Three Lions have often capitulated in shootout scenarios at major international tournaments having been knocked out of the World Cups in 1990, 1998 and 2006 on penalties.
England were also dumped out of the European Championship in 1996, 2004 and 2012 in shootouts, winning just one game on penalties against Spain back in 1996.
The most recent shoot-out defeat at a World Cup came in 2006 against Portugal, when Frank Lampard, Steven Gerrard and Jamie Carragher all missed from 12 yards as England exited the tournament at the quarter-final stage.
And Tottenham striker Kane, who is likely to be England's designated penalty taker, says the current squad have been practising, whilst also urging his team-mates not to focus on past failures.
He told reporters: "We have been practising penalties, not every session, but every now and then the coaches will throw it in at the end of the session when we are maybe a little bit fatigued in games after extra-time, the lads are tired, that's when it's going to happen.
"Every now and then we've been doing it. We haven't spoken about it too much, with that I think it's about being free in your mind, picking where you want to go and go with it.
"The main thing is to believe it can be different, it's been tough for the last 50 years because we haven't won anything.
"For us [the key thing] is to stay focused on ourselves, not to worry about the teams in the past and things like that. We are our own team, we have our own identity and we just have to look forward and enjoy it.
"We can't wait to get out there and get started."
England get their 2018 World Cup campaign underway against Tunisia on June 18, before then facing Panama and Belgium in Group G.