Young Africans
Kamusoko: We want to eliminate Dicha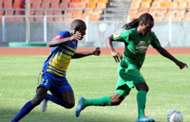 Yanga midfielder, Thabani Kamusoko is confident that his side can avoid Walayta Dicha's upset in Dar es Salaam in the CAF Confederation Cup first leg tie where both teams will be eager to fight for a place in the group stage.
Speaking to Goal, Kamusoko said that they are well prepared to make sure that they win and qualify for the group stage after being eliminated from the Federation cup with Singida United last week.
"We know nothing about our opponents but we have worked hard enough in training and hopefuly we will win the match," said Kamusoko.
The Zimbabwean veteran midfielder is back after being out for a long spell following a knee injury and he is expected to start in the game against Dicha.