Kaizer Chiefs
Kaizer Chiefs coach goalkeeper Daniel Akpeyi to start against Highlands Park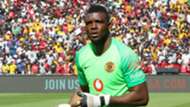 Kaizer Chiefs coach Ernst Middendorp says Daniel Akpeyi will start in goal in their Premier Soccer League (PSL) match against Highlands Park on Saturday evening.
The Nigerian international made a goalkeeping error during Chiefs' 1-1 draw with Polokwane City last weekend.
"I hope he (Akpeyi) has the right mentality to bounce back and not get affected by it. You expect that there will be mistakes," Middendorp said to the media.
The lanky keeper looked to have misjudged a bounce from Polokwane striker Walter Musona's long-range shot which beat him.
"That was my approach with Virgil Vries too, where I said 'it can happen, nothing wrong with it next game he plays again'," explained the manager.
Middendorp stated that he gave keeper Virgil Vries a chance to prove himself after conceding a howler against Mamelodi Sundowns, but he decided to bench him after he made another error against Cape Town City.
"And he went one or two games and did well and then he made another mistake against Cape Town City and that's where I came to the conclusion that it's difficult to accept… but for now we must accept it, and he will start again," continued the coach.
"I am quite convinced that he (Akpeyi) will recover properly," concluded the coach.
Chiefs will be looking to keep up with the pacesetters with a victory over a stubborn Highlands Park side.
They will be hoping to beat Owen Da Gama's Lions of the North following a goalless draw at the Makhulong Stadium in the reverse fixture.