PKNS
Rajagobal mulls tactical changes for PKNS' FA Cup tie against Selangor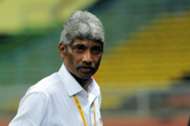 ---
BY        ZULHILMI ZAINAL       Follow on Twitter
---
Following their 2-2 draw against Selangor in their Malaysia Super League clash on Sunday, PKNS FC head coach Datuk Rajagobal Krishnasamy said that he may switch his side's tactics for their FA Cup semi-final tie later this month.
In the round 15 match that was held at the Shah Alam Stadium, the hosts opened the scoring through Rafael Ramazotti's 18th minute goal, but the visitors snatched the lead through goals by Rufino Segovia (79') and Kugan Dhevarajan (90'). However, Ramazotti rescued a point for the Red Ants with his second of the night, two minutes into injury time.
In their round 14 match last Wednesday, Selangor had edged PKNS 2-1 at the Kuala Lumpur Football Stadium. The two Selangor-based sides are set to meet two more times again on June 23 and 30, in the semi-final stage of the FA Cup.
Speaking in the post-match press conference, the former Malaysia head coach expressed his disappointment at his charges' failure to kill the game, and win at home.
"We started well and the game should have been over in the first half because we had many clear chances. But Instead of keeping up the intensity in the second half, we failed to play our normal game, we failed to contain Selangor's long balls towards Rufino, and he managed to score, which allowed them to get back in the game.
"We then conceded a sloppy goal (Kugan's goal), which has been happening a lot. For once we did not let in an early goal, but still gave the opponents the lead later in the game. Fortunately we got the equaliser late in the game. Yes we got one point, but I actually wanted a win," revealed Rajagobal.
Asked by Goal whether he will make tactical changes for their cup matches, following the defeat and the draw, the 2010 AFF Cup-winner conceded that adjustments are on the cards.
"That's possible. We've played them twice and we need to change our approach against Selangor. Maybe, we'll see. There's no other choice as the matches have been a good mental test for the players on both sides.
"(It will be down to) who wants to win more. It won't be easy, and it will be an exciting semi-final tie. We know how Selangor play, they know our game," remarked Rajagobal.
Following the draw, PKNS remain in sixth place while Selangor stay in eighth. The domestic competition will take a one-week break for the Islamic celebration of Aidilfitri after the final round 15 match, between Pahang and JDT, is played this Tuesday.