Mexico
Osorio selects Pirlo and Messi, leaves Ronaldo out of historic XI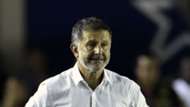 ---

EXTRA TIME
---
Mexico coach Juan Carlos Osorio loves thinking about football, so it was no surprise he labored over his decisions when asked to put together a historic Best XI.
Osorio was not allowed to pick a player from Mexico or one from his home nation of Colombia but otherwise was free to pick any player he wanted. The manager quickly drew up a 4-3-3, his preferred formation, and put Peter Schmeichel, who he crossed paths with at Manchester City, on the board.
How to watch the U.S. national team vs. Serbia
"The only one I've had the honor and pleasure to work with was this gentleman," he later said, circling the goalkeeper's name.
Osorio then puts Messi down as the first name on the teamsheet, playing centrally, but eventually moves him out wide. He also selects Pablo Maldini as a left back, only to move the Italian great to center back to make room for Roberto Carlos.
The biggest surprise in his team is the inclusion of Mario Sergio at left wing, with Osorio saying "may he rest in peace," as he writes the name of the former Brazil and Internacional player who died in 2016.
Osorio also forgets to put Pele in his team before realizing the error and putting him up top. "I have the right to make a mistake, right?" he jokes.
¿Se imaginan cuál sería el once histórico del profe Osorio? 

Dejen de imaginárselo y descúbranlo aquí.  pic.twitter.com/N34gQleo3c

— Selección Nacional (@miseleccionmx) January 26, 2017
The 55-year-old tactician took pains to clarify that this was not a team he would put out on the field, necessarily, but simply players he felt were among the best.
"We're talking about the best XI. If it's the XI for the history of football? Amazing players," said Osorio, pointing to the whiteboard. "If it were a team, I would have to work on it a lot more because a lot of the players are very attacking-minded."
"As a team, I'd have to think about it a lot more," he continued.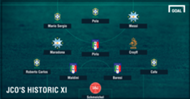 Though the video ends with his mind seemingly settled, the manager known for his squad rotations eventually was pictured with the same whiteboard having added Pep Guardiola as another option in central midfield and Franz Beckenbauer as a center-back candidate.