José Mourinho
'Jose Mourinho is a great man' - Ranieri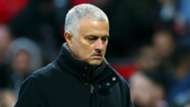 Claudio Ranieri has praised Jose Mourinho, revealing the embattled Manchester United boss was the first manager to call him following his appointment at Fulham.
Mourinho was once again on the defensive in midweek following the Red Devils' last-minute victory against Young boys in the Champions League.
The Portuguese was quick to remind reporters that he has never failed to qualify for the knockout stages of the Champions League in 14 attempts. However, that has done little ease the pressure after yet another below-par performance.
Despite the victory United were far from their best, just like they failed to be during the dour goalless draw against Crystal Palace last weekend.
The home crowd responded to that display against the Eagles by booing the players off at the final whistle, a clear sign that patience in Mourinho's methods is wearing thin among the United faithful.
The critics have unsurprisingly lined-up to question Mourinho's Old Trafford future, but Ranieri is not one of them.
The Italian is back in English football after succeeding Slavisa Jokanovic at Fulham and revealed Mourinho was the first boss to call and congratulate him on his appointment.
"José Mourinho. Great man. Great coach. Great character," Ranieri told Gazzetta Dello Sport when asked who was the first to call him after being named the Cottagers manager. 
Ranieri was victorious in his first game in charge against Southampton last weekend but it wasn't enough to lift the Cottagers off the bottom of the table.
The former Leicester boss acknowledges that he faces a tough challenge to avoid relegation, but couldn't hide his delight at being back in the Premier League.
"They say that training and working is a stress, but for me it's just the opposite. I feel like a lion in a cage," he added.
"I wanted to come back, but it was right to get away for some time with another experience. Nantes was a nice opportunity. Now I'm here and I'll give it my all to save the Fulham.
"The path will be hard and difficult, but I'm sure we will succeed. The team has a good base. We just have to correct some things, mainly the defensive phase and the general approach. With the players I was clear: I want people running and fighting."