Chelsea
'Jose brings a warpath and writes history as a manager' - Crespo's respect for Man Utd boss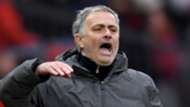 Jose Mourinho "brings a warpath as a manager" and has revolutionised the profession, according to his former Chelsea and Inter striker Hernan Crespo.
Current Manchester United boss Mourinho has enjoyed a career laden with trophies and, while his style continues to divide opinion, he has changed the way managers operate.
Crespo was initially sent on loan at AC Milan by Mourinho when the Portuguese arrived at Chelsea, but the pair went on to enjoy a productive working relationship at both Stamford Bridge and Inter.
The Argentine retains a great respect for the way Mourinho worked, even though he was let go on more than one occasion by the former Chelsea manager.
"It was more than just about me. It was amazing, his history in Inter," Crespo told Goal ahead of the  Chelsea legends game against Inter Forever on Friday . "I tried to help him when he moved there. It was great for us to work together again after Chelsea.
"Jose is different. Jose makes a difference and writes history because the future of his clubs will never be the same after him, because when he comes he brings a warpath as a manager. I think he became a great manager after he left Porto. I think Chelsea gave him more of a reputation which grew and grew.
"I think to be part of that moment was like being part of history. After Mourinho, football managers all changed. They changed what they said in press conferences and the way they behaved. Everything changed. In that moment we understood that managers don't just choose the starting 11.
"They must understand everything all around. It is about your relationships with your players, staff, doctors and media. He understood all of it and he was very clear with everybody. With the fans, with the media, the players and the owners. I understood that it is more than just about the first XI, he was more than that.
"I am very proud of my career. I had the chance to play in many great teams such as Chelsea, Milan, Parma, Lazio and Inter. There was also the national team. Sometimes you have a chance to win or you are second but I always was a competitor. This is important.
"That I had dreams to play in great clubs and reach it. This is something that's special. Now, when I look behind me, I say: 'Wow, what a career,' and I am very proud of that."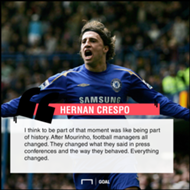 Crespo will be back on the Stamford Bridge on Friday when he plays in the Chelsea legends game against Inter Forever, with his last appearance at the ground coming in a 3-0 win over Manchester United in 2006.
He won the Premier League title during his time at Chelsea and he admits he might cry if he recalls the emotion he felt in that moment of his last appearance at the stadium.
"It was great. I have wanted to come back to play. I have thought about it a lot," Crespo said. "I would love to run on this pitch and be at Stamford Bridge, I don't want to cry but it will be very hard. I have a lot of feeling for both teams.
"I think it will be an amazing match because it will be the first time playing there since I left the Chelsea team in 2006. To come back to Stamford Bridge will be special. I come back to watch some games, but to be on the pitch will be different. The atmosphere feels different when you are on the pitch.
"The last time was when we lifted the Premier League trophy against Manchester United, that was the last game that I played at home. To come back will be something special for me. It was the first league title that I won. After this victory, I won three in a row with Inter. It started something great.
"That day was amazing. This year was amazing. We beat Manchester United 3-0 at home. They came second and it was amazing. I think Friday will be something special for me personally because that feeling I had on that day was very special. To come back and feel that day again makes me feel nervous, I don't know. It is difficult to explain your feelings when they were so intense.
"For me, it is difficult to explain my feelings and I am very emotional because I played with and against these guys. They played in the stadium that made me cry when we won the Premier League. I have a lot of memories. I don't know, I am very excited to be part of it."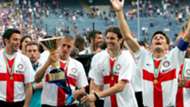 Crespo now enjoys a prominent profile in Italy as a pundit. After coaching spells at Parma and Modena, he became vice-president of the former, who are in contention to return to Serie A after a rapid rise following their relegation to Serie D in 2015. Despite his current role at Parma, Crespo admits that he is keen for another job in management and could return to England.

"I represent the Chinese group who bought Parma, I am the vice-president for them," he continued. "I work like this but my dream is to come back to the pitch and become a manager. At the same time, I have the chance to help a club that I played for at the beginning of my experience in Europe.
"It is not a bad position and I like it, but I want to be a manager in the future. I want to come back to the pitch because the pitch is different to being in the offices, behind a desk. I am waiting for a good project but I like so much to watch every tournament. I watch football in England. I follow the Premier League and the Championship.
"If a good project comes to me, I don't worry much about the country. It is about the project. Normally, you want to stay in a country that you know and prefer, but work is work. A job is a job. I will listen to every offer, regardless of which country or league, and see whether it could work."
Tickets can be bought for Chelsea legends versus Inter Forever through Chelsea's official website. The match is in memory of Ray Wilkins, who passed away last month.