Friendlies
Very few takeaways for Stephen Constantine from India's defeat to Jordan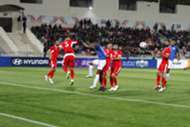 India's international friendly against Jordan at the King Abdullah II Stadium in Al-Qweismeh in Amman was supposed to be vital in their preparation for next year's AFC Asian Cup. India were facing a West Asian side away from home and since two of India's Group A opponents were West Asian sides (UAE and Bahrain), Stephen Constantine would have been looking forward to how his team fared against the Jordanians. 
But logistical issues which included delayed flights meant the entire team could not assemble in Amman in time and Constantine was left with a tired squad. It forced the team management to initially cancel the game but were then forced to play the game on the face of adversity. 
A 2-1 loss ensued on Saturday night but the fact of the matter was that India did not have much choices or options to have gone all out for a win. 
"We had no intention of not playing but circumstances changed things. Disappointed we lost but it is okay," said the coach after the game. 
Constantine did not even have a recognised striker in his starting XI with Anirudh Thapa donning that role. None of the strikers had reached Amman in time and were not in a position to play a demanding fixture.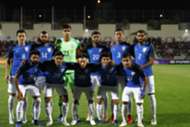 This meant a left-back in Jerry Lalrinzuala was playing on the left wing and Salam Ranjan Singh was playing alongside Anas Edathodika in defence. In the absence of Sandesh Jhingan, the duo looked ill at ease. 
There were moments when the lack of understanding between the two came to the fore but India did well to concede only two. And the two goals they did concede stemmed from goalkeeping errors. 
Jordan's opener, a freak goal from their own goalkeeper, was entirely Gurpreet Singh Sandhu's fault. First he sent a freekick straight into Amer Shafi's hands and then did not get back in goal in time. Further, he misjudged the bounce on Amer Shafi's long punt upfield and could only palm the ball into his own net while backtracking. 
Even the second goal saw Ehsan Haddadi's shot beat him at his near post. Given the standards he has set himself, Gurpreet should have stopped that. 
India had just six players on the bench for the game and it was basically all hands to the pump for Constantine. And one of his substitutes, Nishu Kumar, pulled a goal back to infuse some life into the game.
India did have a chance to get an equaliser late on but would have to settle for a respectable 2-1 loss. 
But the farcical nature of the match was highlighted by the fact that India ended up playing four left-backs (Subhasish Bose, Narayan Das, Jerry Lalrinzuala and Nishu Kumar) in various positions during the course of the match. 
Apart from the fact that the team had the courage to brave adversity, what else has Constantine learnt from this tie, this close to the Asian Cup? Probably nothing. 
"It is another month to go and I just hope that no one gets injured. And today my biggest worry was not having the preparation we needed but more importantly no one got injured. Considering that we played without a striker in the first half and most of them out of position, it is a great performance," the Englishman said. 
Saturday's match turned out to be just an exercise and nothing more. One also has to consider that Jordan themselves had many key players missing and were lacklustre in the attacking third. 
If India had not played this match, they would not have had a single game in this window which was one of the reasons why they did go forward with it. All this leaves one wondering why India had only one game planned for this window?