Johor Darul Ta'zim v PKNP
Abu Bakar puts first defeat down to huge gap between PKNP and JDT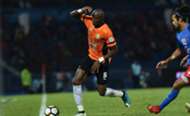 Fresh from achieving their first ever win in the Super League on their first try, PKNP FC were brought back down to earth with a 3-0 defeat at the hands of Johor Darul Ta'zim (JDT). 
The plucky newcomer just could not stem the waves after waves of JDT attacks and their stubborness was eventually broken just before half time through a Jorge Pereyra Diaz goal.
To their credit, Abu Bakar Fadzim and his team tried to be positive in the second half, trying to find the equaliser instead of further closing shop and accepting a defeat. However, that left more space for JDT to operate and the reigning Super League champions finally strolled to a big win.
"We managed to hold in the first half but a sloppy concession of a free kick and we were punished. We know they were bidding their time and they had the quality. We tried to give them a fight but our defence weren't organised enough after that." 
"The two attackers on my side in Sokpheng and Gi-sung also had an off day, did not press enough on their defence. Anyways, congratulations to JDT for winning the match.
"Maybe we lacked experience playing against a team in a class of their own. We were put under tremendous pressure and that took away some of confidence when we had to hold the ball. We'll need to learn from this because we'll be playing Kedah next, who are equally as strong," said Abu Bakar in the post-match press conference.
Facing two big teams back-to-back is a big baptism of fire for the inexperienced PKNP side, who were only promoted from the Premier League due to teams dropping down from the Super League outside of the relegation zone.
Abu Bakar is still waiting on the recovery of star forward, Shahrel Fikri who looks likely to still be unavailable for Sunday's match against Kedah. The PKNP coach is hoping that Shahrel can make it for their subsequent Super League encounter against Kuala Lumpur at the end of February.