Super League
JDT 2 NS 0: 5 talking points - title and relegation courses charted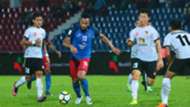 JDT took a gigantic step towards retaining their Super League title with a comfortable 2-0 win over Negeri Sembilan at Tan Sri Dato Haji Hassan Yunos Stadium on Wednesday night.
After their closest challengers all dropping points 24 hours before the match kicked off under teeming rain in Johor Bahru, JDT knew that they had to win to fully capitalise on it - which they duly did.
Negeri were second best from start to finish and with new head coach Mario Lemos only able to watch from the stands, the Portuguese could see fully that his team are in trouble in more ways than one.
A result that kept both teams as far apart in the league table as it possibly can, Goal pick out the major talking points from a game that produced an expected outcome.
Title JDT's to lose, lacking viable rivals
For the fanfare and general interest in the league, it wasn't ideal that JDT are now a whopping eight points ahead in the league table with this latest win that was secured by a brace from Gonzalo Cabrera. For JDT themselves, it was what they wanted and they got a performance to match that wish.
That's half of the season gone now and with Perak and Pahang faltering at Terengganu and Kedah respectively, it leaves a large vaccum of space between them and league leaders JDT. Looking further down at the table, there are no other gap that comes close to the eight that JDT holds over Perak, which clearly indicates the vast difference in strength between teams.
Fuelled now by the latest signings in Harry Novillo and Jorge Santos Silva, JDT did look like they were slightly on the ropes prior to the arrival of those two. Yet, the fact that other teams still could not keep pace with them then will ultimately prove to be JDT's gain. It's a one-horse race and JDT are riding their way to the finish line at a canter.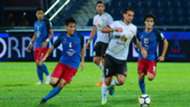 Two will fall, N9 looks like one of them
At the end of every season, two teams will drop down a tier from the Super League to the Premier League and the way things are going at the moment, Negeri looks to be the clear favourites to fill one of the two slots and make an immediate return to the second tier.
If one were to be kind, the argument that champions JDT are just on a different level to Negeri is not some far-fetched notion. But the bigger concern for them isn't what happened in this match but rather what happens in the other ones which they are supposed to be on a more level pegging.
The truth like most things are probably somewhere in the middle. The squad that Negeri possess is one that still look like a Premier League quality one. The import signings have been poor and unable to be the guide to the locals as they should be. Now six points away from safety, Lemos will need to pick up points fast if they are to beat the drop.
Harry will be able to carry the burden
Replacing Jorge Pereyra Diaz isn't easy. For all his faults as a person, the Argentine was truly influential whenever he step onto the pitch for JDT. It's an unenviable task for someone to come in and live up to the same expectation but Harry Novillo's shoulders are looking fit for the job.
The former Lyon player showed his pedigree with a classy debut performance and a goal against Selangor on MD10, which was followed by another inspiring display on the right hand side of JDT's attack against Negeri. It wasn't the complete performance yet and perhaps still needing to work on his fitness levels, Novillo still provided many snapshots why he was coveted by the team.
Impeccable close control, dribbling ability, willing to take shots and general desire to keep being part of the game - makes him an exciting player to watch. There are still teething problems while he tries to build up an understanding with his team mates but he will undoubtedly be the one to watch in every game.
Silva sub par but will need time to gel
What Novillo is doing is not the norm in football. Players moving to a new club will generally take time to adapt to the new tactics, instructions, team mates and playing conditions. JDT's new striker Jorge Santos Silva hasn't set the world alight after 180 minutes with the team but looks already to be a much better fit than Luciano Figueroa.
Strikers will always be measured by goals and it will be no different for Silva. The longer he takes to find his first goals for his new club, the bigger the weight of expectations will be on his shoulders and that could be impacting his game.
But the positive signs are there that Silva is a player of sufficient quality that will fit the requirement needed by JDT. His mobility is an upgrade on Figueroa and that instantly gives JDT more options up front than before. Against Negeri, Silva was constantly on the move and while his shots failed to beat Ilham Amirullah, the Brazilian was the perfect foil for his team in attack.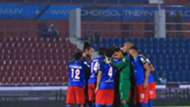 Fans shy away for multitude of reasons
It would be hard to overlook the fact that a title chasing JDT only played in front of a sparse crowd against Negeri. Fasting month, continuous rain, working midweek and late kick off are just some of the possible reasons why the fans did not turn out in full force at Larkin.
The decision to play through the fasting month has received mixed responses. Starting the match at 10pm meant that the fans will have to stay past midnight is not a factor that can be taken lightly. On the other hand, this is not something that is new nor only limited to matches played in Malaysia.
A better gauge of the it would be when the next set of matches comes around at the weekend. Whether fans would be more willing to accommodate with the scheduling when it's not a schooling or working day the next.
All pictures (C) Johor Southern Tigers