Johor Darul Ta'zim
Hariss promises a stronger JDT after first away league defeat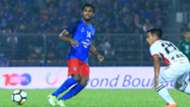 In 2016, JDT remained unbeaten throughout the entire Super League campaign enroute to finishing as champions. Last season, they managed to retain their title but lost three away matches along the way.
This 2018 season is only three rounds of matches old but the reigning champions have already suffered their first defeat of the campaign. A 1-0 reverse to Kuala Lumpur at the KLFA Stadium on Sunday ended any hope of JDT repeating their feat from two years back.
A solitary Paulo Josue goal was enough to send JDT back home with their tails between their legs in a match where they should have at least picked up one point. JDT peppered Kuala Lumpur's goal throughout the match but was unable to find the breakthrough.
Hariss Harun now back at the club after a season away on loan, started out in midfield but was pushed back into defence shortly after the game was restarted on Sunday as JDT went in search of the equaliser.
The Singaporean was often times left alone with Fadhli Shas to man the defence against the combination of Josue and Guilherme de Paula, as his team mates pushed up to find a way back into the match.
"Every year is tough. It's still very early in the season and it's very disappointing to have this result. But now we need pick ourselves up and win the next game. We want to pick up as many points as possible." 
"Sometimes this is football. Yesterday and today we had a lot of chances but the ball just didn't go in. We have to accept this and improve in the next game. We have to learn from this defeat, move on and come back stronger," Hariss told Goal after the match.
To be fair to JDT, they did create plenty of goal-scoring chances and on another day, they would not only have gone level with KL but would probably have beaten the City boys. With the match against Persija Jakarta on the horizon, JDT know that the KL match was just a bad day at the office.