UEFA Europa League
Joe Cole: Win or lose Europa League, Mourinho already a success at Man Utd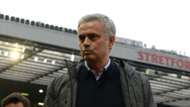 ---

EXCLUSIVE
---
Whether Jose Mourinho's first season at
Manchester United
is deemed a success seemingly hinges on Wednesday's
Europa League
final against
Ajax
.
Henry slams Mou over Pogba errors
But former Chelsea and England midfielder Joe Cole, who played for Mourinho, believes the manager has already achieved success in his first season in Manchester, with or without a trophy to add to the EFL Cup his team already has won.
"Not only do I think he will be a success, he's already a success," Cole told Goal . "I've seen ex-players criticise him, but he's already a success there.
"And when he wins the Europa League, I'll go as far as to say that — after [Antonio] Conte — he's probably the manager of the season, to get that group of players to win two trophies and get to the Champions League.
"Sure, they might finish fifth or sixth. But he's gone so far deep in Europe that these games where he drew at home to Swansea and all that is difficult.
"If he would have not been in Europe he would have won that game for sure, and probably finished fourth anyway."
Mourinho has come under fire for United's lacklustre results in league play — leading to a sixth-placed finish — and the complaints will surely grow if the Red Devils fall to Ajax on Wednesday, which would again mean absence from the Champions League.
"The criticism he's gotten this year has been just ridiculous and unjust," Cole said. "He's already won a trophy.
"Let's just say he's gone deep in the Europa League and there's probably a good chance he's going to win, so that's two trophies."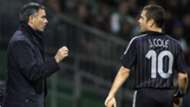 Cole tried putting the task Mourinho inherited when he took over United into perspective, pointing to the limited number of player additions he made in his first season.
"You can't compare it to the [Sir Alex Ferguson] era because the league's moved on," Cole said. "Fergie, what he did in that era was great, but what [Mourinho] took over was a massive club with a lot of players who were not at the standard of the teams around them.
"He's only signed four players so far, so he's been very specific with who he wants."
It shouldn't come as a surprise that Cole has defended Mourinho considering the strong relationship they built when the midfielder played for Chelsea during the Portuguese's first stint as Blues manager.
Chelsea won a pair of league titles (2004-05 and 2005-06), and Cole acknowledged how highly he regards Mourinho as a manager.
"I think Mourinho was the best [I ever played for]," Cole said. "I wouldn't say favourite to play for because he cracked the whip with me a lot.
"But I respect him and I really like him as a person, and he got the best out of me I'd probably say."
Cole believes Mourinho's quality as manager will ensure United's return to the top of the Premier League, a position that has eluded the club since Ferguson's retirement in 2013.
"They'll be back on the top of the tree very soon," Cole said. "If you could say for him to leave Man United I'd like that, because they'll be competing with Chelsea next season, that's for sure."