Super League
PREVIEW: JDT seek to create new history by overcoming depleted Selangor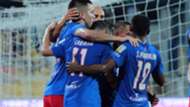 This Saturday will be the 19th round of the Malaysia Super League (MSL) to be played this season, but the title winners could be decided on this same day, with three matchdays to go.
League leaders Johor Darul Ta'zim (JDT) will play fifth-placed Selangor at the Selayang Municipal Council Stadium, with a win over the Red Giants ensuring that they will get to take the league trophy home for the fourth year in a row.
PERMUTATIONS
Such is JDT's supremacy in the league, that they still have a chance of capturing the title at Selayang even if they lose to Selangor.
JDT are now on 45 points, 11 points ahead of second placed Kedah. A win over the Red Giants is enough to crown the Southern Tigers this season's champions, regardless of the result of Kedah's round 19 match, against third-placed Pahang.
JDT could still capture the title if they draw against Selangor, as long as Kedah draw or lose against Pahang. If they are held by Selangor and Kedah win, their lead will be reduced to nine points, and Kedah will retain a mathematical chance of pipping them to the top spot.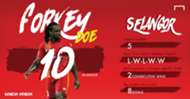 CURRENT FORMS
Both sides have done well in their recent matches, with the hosts having recorded three wins and two defeats out of their past five matches.
Saturday's visitors meanwhile have won four times and lost once in their last five matches. Coincidentally, the defeat came at the hands of the Red Giants, an August 7 Malaysia Cup group match that ended in a 3-2 scoreline at the same venue.
But for the hosts, the two defeats came within the space of one week, after having played in seven matches without losing prior to that, suggesting that they are close to running out of steam as a result of fixture congestion.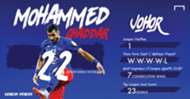 RECENT RECORDS
In recent years, the Southern Tigers have emerged as the better side when the two teams meet. Out of their last five encounters; JDT have won three, Selangor one while the remaining match ended in a draw.
The same statistics also emerges when looking at the past five encounters hosted by the Red Giants.
PLAYER AVAILABILITY
The main reason behind Selangor's performance dip in the past week is fatigue due to fixture congestion, which has caused injuries to several of their key members. Rufino Segovia returned to action against Terengganu last Saturday but aggravated his hamstring in doing so, and will be out of the match, as will winger Raimi Noor. Worse still, Liberian forward is a doubt for the match, head coach Maniam Pachaiappan told us, although he said Amri is likely to start the match. 
Just like the hosts, none of head coach Ulisses Morais' men are suspended for this match, but this is where the similarity ends. Only Brazilian centre back Marcos Antonio will be sidelined for injuries in the match, and Morais should be able to field their strongest available side against the Red Giants.
VERDICT
Although their previous encounter ended in a win to the Red Giants, this time around the Southern Tigers may decide to go all out and win it tomorrow. Coincidentally, in the 2015 season they captured the title at Selayang as well, despite being defeated by Felda United 2-1 in the final round.
A well-rested Red Giants squad with all their key players fully fit would no doubt be able to give JDT a run for their money, but due to the growing crocklist and depleting gas in their collective tank they may simply be overwhelmed by the visitors.