England
'I've learned from my mistakes' – Alli pledges to be England World Cup role model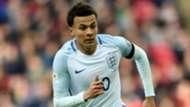 England midfielder Dele Alli has promised that he will be on his best behaviour during the World Cup so as to not let his side down.
The Tottenham star has courted controversy on the field previously but says that he has cleaned up his act ahead of Russia 2018, where match officials will be able to issue retrospective yellow and red cards due to the introduction of Video Assistant Referees (VAR).
Alli is aware that he will fall under particular scrutiny but does not see that as a problem.
"I've made mistakes in the earlier part of my career — you have to make them in order to learn from them. But if you look at my record, I have definitely learned from my mistakes," the 22-year-old said, according to the Sun.
"I've got everything under control, that's not what I'm worrying about.
"You have to stay concentrated, you can't do stupid things. And if you do, you have to learn from your mistakes, that's just the way it is.
"You don't want to put yourself in a position where you could lose the game for your team when you're on international duty. I want to play with passion, I want to play with hunger in every game."
Meanwhile, he is happy to have been offered the opportunity to play a slightly deeper role for Gareth Southgate's England side than he typically does for Spurs.
"This is not a new position for me," he said. "For my whole time at MK Dons I was playing there. It wasn't really until I signed for Tottenham that I started playing in the No. 10 role, a bit higher up the pitch.
"I enjoy playing there, but when you've got the Three Lions on your jersey, then you will play anywhere you're needed.
"Yes, it's a battleground and there's a lot of different challenges.  There are a lot of great players in the squad for Gareth to choose from.
"On the day of the games everyone will be ready, so you're not just concentrating on one position. Wherever you're needed, you have to be ready to step in."
England will tackle Tunisia, Panana and Belgium in Russia as they aim to progress past the group stage for the first time since 2010.