José Mourinho
'It's the most important match in Man Utd's history' - Mourinho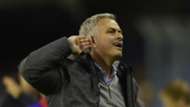 Jose Mourinho has branded Manchester United's Europa League semi-final second-leg encounter against Celta Vigo as the club's most important fixture in history.
A free kick from Marcus Rashford means that the Red Devils carry a 1-0 advantage into the match, with the Old Trafford club potentially only 180 minutes away from winning the competition for the first time.
With United struggling to finish in the top four in the Premier League and a Champions League berth on offer if they can win in Europe, Mourinho refuses to underestimate the importance of the competition to his side.
"For Celta, it's - in their words - the most important match of their history," he said. 
"My feelings, it's also the most important match of our history. It doesn't matter what happened before, how big the matches we played before.
"I don't believe Celta dreams more than us, want to win more than us. I really don't believe. In this aspect, I don't think there will be a difference between both teams."
The winner will likely face Ajax in the final in Stockholm, with the Dutch club holding a commanding 4-1 advantage over Lyon ahead of their second leg in France.