Alex Oxlade-Chamberlain
'It keeps me going' - Oxlade-Chamberlain reveals Brewster role in Liverpool comeback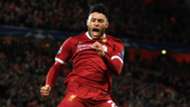 Alex Oxlade-Chamberlain has paid tribute to Liverpool protege Rhian Brewster as he continues his road to recovery.
The England midfielder tore his anterior cruciate knee ligament last April and is expected to miss the whole of this season as a result.
Oxlade-Chamberlain is currently going through a long period of rehabilitation, but has been joined by Brewster - who has suffered an injury nightmare of his own.
Recovery from ankle surgery at the start of the year has taken longer than expected for the Under-17 World Cup Golden Boot winner, but he has played a crucial role in motivating his team-mate.
"You're just sort of left in a silent room doing your gym and it's those moments that are the most difficult ones, especially when it's a long process and it's going to be like this every day," Oxalde-Chamberlain told Liverpool's official TV channel.
"So it's nice to have a younger lad that I can sort of guide through it as well. Rhian's been brilliant, he's a great lad and I don't really have to tell him too much.
"A lot of the time he's checking on me, I'll be honest.
"He's always so positive and he's just got that youthful enthusiasm about him which is really going to have around, it keeps me going.
"I had injuries when I was a similar age to him and because I know these things, I can keep pushing him."
Following his move from Arsenal in 2017, Oxlade-Chamberlain played a key role in Liverpool's progress in the Premier League and Champions League.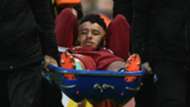 But he was struck down in the first leg of the semi-final win over Roma, and in the summer it was reported he would be unable to play any part in the 2018-19 campaign.
Oxlade-Chamberlain has lauded praise on manager Jurgen Klopp for his support during his time on the sidelines.
"He's been massive," he added. "Whenever I see him he's always got a smile on his face.
"He's really positive and keeps me in his thoughts and when he talks about the team he'll mention me, which is obviously really nice, especially when the boys are doing so well.
"The important thing as well is that he's given me time. He told me, 'Look, we know how long this going to be, don't worry about it, get yourself right and then we'll go again' which is really nice to hear."