NorthEast United
ISL 2018-19: Bartholomew Ogbeche looking forward to the NorthEast United challenge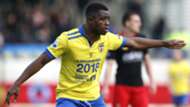 After plying his trade in Ligue1, English Championship, La Liga and Eredivisie, Bartholomew Ogbeche has finally landed in Guwahati to take up a new challenge at Indian Super League (ISL) side NorthEast United. 
Ogbeche has featured for clubs such as PSG, Real Valladolid and Middlesbrough in his professional career and has even made a few appearances for the Nigeria national team. 
The striker spoke exclusively to Goal on his decision to switch to India and challenge he expects at NorthEast United. Below are the excerpts.
Q - What brings you to NorthEast United FC?
BO - I heard a lot of good things about the project of the club. The club owners contacted an agent I was working with and they tried to convince that NorthEast is a very good and ambitious club. I thought about it and I got kind of seduced by the arguments. I thought this would be a good challenge for me and my career. Hence, I am here.

Q - Did you ever hear about the ISL before coming here?
BO - Yes, I did. I had some friends who have played here before and some who are still here like Kalu Uche (ATK). They've played in different clubs over here and I have been in contact over the years. They did tell me quite positive things about the ISL and I didn't have any doubts about what I could expect from what they told me. So, it also helped me to take my decision. 

Q - What do you make of the pre-season so far?
BO - For now, everything has been positive and it is still too early for me to pass a judgement about everything I have seen until now. From the first day since I have been here, I have been well received and it has been a warm welcome from my teammates, staff and the coach. It has been a promising start in the pre-season. I have been here for a little bit more than a week now. I can tell you pre-season is never the best time for any footballer but we need to work hard to have a good season afterwards. 

Q - NorthEast Utd fans have rallied around names like Nico Velez, Simao Sabrosa and Emiliano Alfaro in the past. Last season, such a name was missing, can you take over the mantle?
BO - I hope so. I hope the work that I do on the field is going to speak for itself. But those things start from the training ground, from unity and I would need a lot of (support from) my teammates. We all need to be successful together and I am looking forward to it.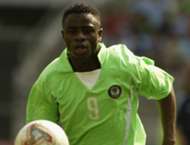 Q - How were your experiences playing for clubs like PSG, Deportivo Alaves, Real Valladolid and Middlesbrough, which are very familiar to Indian fans?
BO - I am thankful I have been at some really top clubs. I have been lucky to know some really amazing players, some of the best in the world like Ronaldinho, Jay-Jay Okocha, Nicolas Anelka back in the days when they were at their best. Of course, I have learnt a lot from them and I still have very good contact with most of these players and their advice throughout the time has been very helpful.
I hope I could also help other young players to be very ambitious because talent without hard work is nothing. You have to do a lot of sacrifices, both on and off the pitch. I am happy that I have been at some of the best clubs until now and hopefully, I can keep that going.

Q - Do you have any regrets not being called up for the Super Eagles as much as you would have wanted?
BO - No, I don't have any regrets. If things didn't happen, they weren't meant to be.