ATK
ISL 2018-19: Coppell - I'm pleased with the point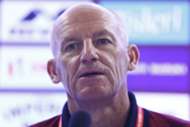 ATK began their Indian Super League (ISL) campaign after the international break stage with a 0-0 draw away at Mumbai. Coach Steve Coppell seemed reasonably pleased with his side's performance against an organised Mumbai City FC. 
"I think we're slightly disappointed, but it's a tough call to make. Mumbai didn't create many chances; I think we created mistakes. We were trying to get our noses in front. Everton (Santos) was fouled so many times and that disrupted our attacks. But I think it's a great result. They are a difficult team to play against. We were still more on the front-foot than they were so I'm pleased with the result."
The Englishman had his say about how it's hard to build momentum with all the short and long breaks in the league.
"It's difficult to establish a rhythm with constant breaks like the international break. Now we have five games in 19 days which is a completely different challenge from how we just had one game in 23 days. The ISL has different types of challenges at different stages."
Coppell was aware of the dangers that accompanied an attacking approach against a team like Mumbai and mentioned that he's satisfied with the result.
"We try to win every game but we can't be stupid against a disciplined team like Mumbai. If we send men forwards stupidly, they will punish us on the counter. So we had to attack from positions that were favourable to us. We lost a couple of strikers in the past few weeks. So I think we did well on the night."
The 63-year-old also provided some insight on the expectations in the transfer window, the quality of the foreigners in the team and the partnership between John Johnson and Andre Bikey.
"(Emiliano) Alfaro will be seeing a specialist and then we can comment on his injury. But at the moment, it's looking difficult for him to play a part in the end of the season."
"We have a full complement of foreigners now. Kalu (Uche) will be back after Christmas. We will take a call at the end of these five games."
"I think Ricky (Lallawmawma) and Everton had a good game. Everton has played in every position in midfield and now as a number nine."
"I'm sure Johnson could have stayed at Bengaluru FC but he decided to take up this new challenge and join us. I'm glad that he did. He's been the linchpin of our back four and Andre Bikey has been terrific as well. They seem compatible. Every coach is a happy with a clean-sheet."