Mumbai City
ISL 2018-19: Costa - We will see about the transfers in January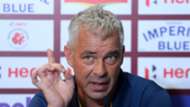 A goalless draw in their eighth fixture in the Indian Super League (ISL) meant that Mumbai City FC are still within the play-off spot. But a draw at home is never something any manager would celebrate. Mumbai boss Jorge Costa was hoping for a better result.
"I think it was a fair result. We had our positives and negatives. We had some clear chances in the first half, through Rafael Bastos. I think we fought a lot. A lot of times we had the quality but we could not win the game tonight. We got the one point but this is not we were expecting before the game."
The Portuguese coach was not pleased with how the international break breaks the momentum as Mumbai were on a three-match winning run before the ISL entered its second break.
"We had three consecutive victories before the break and it's difficult to pick up the momentum now."
Costa is happy with the set of players at his disposal but refused to rule out activity in the transfer market.
"We will see about the transfers in January. It's not easy but we will see if we can do it. But we will look to improve our players. I'm happy with the players and they are happy with the squad."